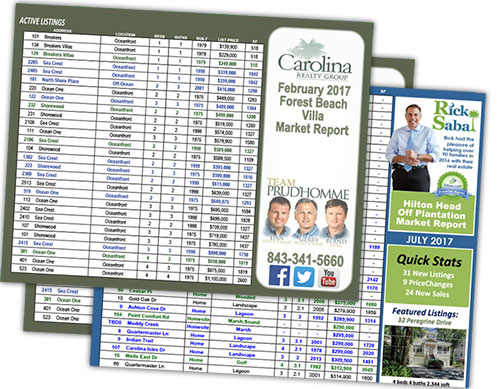 Each month Carolina Realty Group prepares detailed and in-depth market reports for communities in the Hilton Head & Bluffton Real Estate area. These reports detail the current inventory for each month, property under contract and several months of closed sales. These reports are done "by hand" and are the best way to get familiar with our market.
For Buyers these reports are invaluable for learning about the market in a specific area. By following along with these reports a Buyer can determine the trends in the community, what the going price points are and what the activity level is over time.
For Sellers (and potential Sellers) these reports are just as critical. By subscribing to our Free market reports the property owner can determine what the demand level is in their community, what like property is selling for and allows for a realistic understanding of the current market
By tracking the market in a consistent and easy to grasp way both Hilton Head Buyers and Sellers are better armed for their upcoming transactions. Don't just think you know what is going on in the market…know what is going on in the market.


Welcome to the most comprehensive real estate market information on the web today for Hilton Head and Bluffton, SC. Find the Carolina Realty Group's famous monthly market reports below.