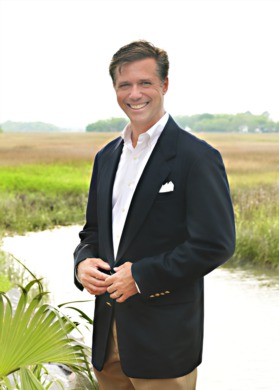 The team of Eric and Hillary Dollenberg, Associate Broker and Realtor® respectively, represent the best in real estate professionalism and acumen. The team leverages years of industry expertise with a true passion for Hilton Head Island, the surrounding area, and everything it has to offer. 
Eric and Hillary's relationship with Carolina Group Realty allows maximum exposure for clients' listed properties through powerful, proven local and global resources.
The Dollenberg's are in print regularly in LOCAL Life, Unique Homes, The Wall Street Journal. Find them globally on high traffic sites such as Zillow, LuxuryHomes.com and Juwai, the largest real estate web site in Asia. For Eric and Hillary's purchasing clients Concierge and settling-in services are offered through an in-house company, as well as rental services.
Eric traveled from Pennsylvania to Hilton Head Island for the first time in 1977 with his family. He couldn't wait for the first glimpse of water, whiff of salt air, the first morning hitting balls out on the range. After graduating Duke University, Eric made this beautiful island his home. Since 1998 Eric has had the pleasure of working with clients with a similar story... wherever they are from, they feel the draw of this coastal land and want to be a part of it. 
Third generation islander Hillary Dollenberg ensures her clients have ultimate access to all things Hilton Head. Having an outstanding reputation for marketing distinguished properties, and exclusive knowledge of the local market, Hillary is the critical resource for selecting the ideal community and, ultimately, property for purchasers.
Luxury Home Specialists.
Hillary is a Licensed Realtor® and Eric is a Licensed Realtor® and Broker.